Birth name:Thomas Cruise Mapother IV
Date of Birth: 3 July 1962, Syracuse, New York, USA
Zodiac Sign: Sun in Cancer, Moon in Leo
Occupation: Actor, Director, Producer,Writer
Education: (1978-1981) High School Graduate (Glenn Ridge-New York)
Kids: Isabella Jane and Connor Anthony(adopted)
Religion: Scientology
Height: 5'9"
Color Eyes: Blue
Color Hair: Dark Brown
Tom Cruise was born on July 3, 1962 in Syracuse, New York. He is 35. He was raised by his mother after she and his father divorced. After a peripatetic childhood in which he reportedly attended a dozen schools by age 12, Cruise turned to acting in high school after a knee injury derailed his wrestling ambitions. Energized by landing the role of Nathan Detroit in his high school production of Guys and Dolls, he dropped out in his senior year to pursue an acting career.
By 1981, Cruise was in Los Angeles where he met Paula Wagner, then an agent at Creative Artists Agency, who would subsequently guide his film areer.He made his feature debut in a small role in Franco Zeffirelli's notorious Brooke hields-starrer Endless Love, and gained attention in a showy supporting role as an increasingly lunatic cadet in Taps. Cruise gained celebrity in the superior teenn sex satire Risky Business (1983). As an anxious, affluent, suburban teen poised precariously on the brink of young adulthood, Cruise created a reasonant protagonist for young Reagan-era audiences. He even put on some extra pounds to emphasize the softness and vulnerability of the character as he flirts with illicit capitalism. In a star-making scene, Cruise, clad in a button-down shirt, Jockey briefs, and cool shades, plays air guitar and dances wildly to Bob Seger's anthem,"Old Time Rock'n'Roll." This celebrated sequence provided a key to the actor's subsequent mega-success: he was an attractive but fairly regular guy to whom audiences could easily relate. Intriguingly, the part also showcased Cruise's magnetic sexual appeal much more effectively than his subsequent screen roles. Cruise performed well in a more naturalistic mode in All the Right Moves (1983), a sober high school football drama that fared modestly at the box office. He next grew his hair long and made the wrong move with Ridley Scott's colossal fantasy flop, Lengend (1985). Cruise consolidated his serious dramatic credentials with Barry Levinson's Rain Man (1988), where he more than held his own opposite overbearing Oscar-winner Dustin Hoffman. Oliver Stone's Born on the Fourth of July (1989) earned him a Best Actor Oscar nomination for his hard-hitting portrayal of anti-war activist Ron Kovic.

Cruise stumbled a bit with the critically and commercially disappointing Far and Away (1992), a goofy period romance co-starring his wife Nicole Kidman (whom he married in 1990 after they worked together in Days of Thunder). He recovered with a highly popular court- martial drama, A Few Good Men (1992), where in his successfully confronted an iconic Jack Nicholson. He played a lawyer again in the thriller The Firm (1993) with comparably successfully results at the box office. Tom Cruise and his ex-wife (Nicole Kidman)
Cruise was all but omnipresent in the media as he aggressively promoted his feature producing debut, the post-Cold War espionage movie, Mission Impossible (1996). Based on the fondly rememvered 60's TV show, the project had languished in various development hells before Cruise got involved. This marked the inaugural project for Cruise/ Wagner Productions, the ocmpany the actor formed with his one-time agent in 1992. Rumors abounded about Cruise clashing with director Brian De Palma over budgetary and story matters.
Nonetheless, depite international location shooting, high-tech stunts, compute -generated visual effects, and last-minute re-writes by a stellar assortment of scripter, Mission: Impossible came in on time and under budget at approximately $67 million. (Cruise deferred his $20 million salary.) The reviews were mixed- some treated it as an extravagant but cold vanity production with a confused storyline but most admired the cinematic technique. As anticipated, business was brisk.

Now a producer as well as an actor, Cruise had numerous projects in various stages of development at the time of the release of his summer blockbuster. Jerry Maguire (1996), in which he played a venal sports agent, was lensing for a Christmas release. Cruise also annouonced tthat he and Kidman were starting preproduction on legendary writer-director Stanley Kubrick's long-awaited return to feature filmmaking, Eyes Wide Shut (scheduled to begin lensing in the fall of 1996). This collaboration would mark another milestone in Cruise's quest to be taken seriously as an artist and not just another pretty face with major commercial clout.



Actor filmography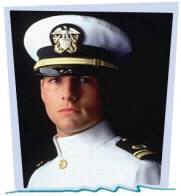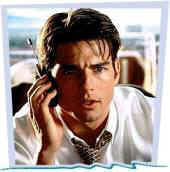 Minority Report (2002) .... Officer John Anderton
Vanilla Sky (2001) .... Christopher
Stanley Kubrick: A Life in Pictures (2001) .... Himself
Mission: Impossible II (2000) .... Ethan Hunt
Mission Improbable (2000) (TV) .... Himself
Magnolia (1999) .... Frank T.J. Mackey
Eyes Wide Shut (1999) .... Doctor William "Bill" Harford
Salute to Dustin Hoffman, A (1999) (TV) .... Himself
Jerry Maguire (1996) .... Jerry Maguire
Mission: Impossible (1996) .... Ethan Hunt
Interview with the Vampire: The Vampire Chronicles (1994) .... Lestat de Lioncourt
Firm, The (1993) .... Mitch McDeere
Far and Away (1992) .... Joseph Donnelly
Few Good Men, A (1992) .... Daniel Alistair 'Danny/Dan' Kaffee
Time Out: The Truth About HIV, AIDS, and You (1992) (V) .... Himself
Days of Thunder (1990) .... Cole Trickle
Born on the Fourth of July (1989) .... Ron Kovic
Don't Look at Me (1989) .... Himself
Rain Man (1988) .... Charlie Babbitt
Cocktail (1988) .... Brian Flanagan
Young Guns (1988) (uncredited) .... Cameo
Color of Money, The (1986) .... Vincent
Top Gun (1986) .... Pete "Maverick" Mitchell
Legend (1985) .... Jack
Risky Business (1983) .... Joel Goodson
Outsiders, The (1983) .... Steve Randle
Losin' It (1983) .... Woody
All the Right Moves (1983) .... Stefen 'Stef' Djordjevic
Endless Love (1981) .... Billy
Taps (1981) .... David Shawn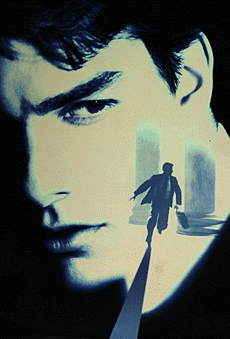 Producer filmography

Dolan's Cadillac (2002) ...(producer)
Vanilla Sky (2001)... (producer)
Darkness, The (2001) ...(executive producer)
Mission: Impossible II (2000)... (producer)
Without Limits (1998)... (producer)
Mission: Impossible (1996)... (producer)


Director filmography

"Fallen Angels" (1993) ...(TV Series)


Writer filmography

Days of Thunder (1990) (story)
Notable TV guest appearances

... in episode: "Goes Cell-ular"

Awards
2000: Blockbuster Entertainment Award- Favorite Supporting Actor, Drama (Magnolia)
2000: CFCA Awars - Best Supporting Actor (Magnolia)
2000: Italian National Syndicate of Film Journalists Special Silver Ribbon
1997: Blockbuster Entertainment Award- Favorite Actor, Comedy/Romance (Jerry Maguire)
1997: Golden Globe- Best Performance by an Actor in a Motion Picture -Comedy/Musical (Jerry Maguire)
1997: Golden Satellite Award- Best Performance by an Actor in a Motion Picture, Comedy/Musical (Jerry Maguire)
1997: MTV Movie Award- Best Male Performance (Jerry Maguire)
1997: Nova Award- Most Promising Producer in Theatrical Motion Pictures (Mission Impossible)
1996: NBR Award- Best Actor (Jerry Maguire)
1994: Hasty Pudding Theatricals Man of the Year
1994: People's Choice Award- Favorite Dramatic Motion Picture Actor
1990: Golden Globe- Best Performance by an Actor in a Motion Picture, Drama (Born on the Fourth of July)
1987: ShoWest Convention Special Award- Box Office Star of the Year
Click on the eyes for the most beautiful pictures